West Los Angeles contractors can help luxuriously renovate your home or townhouse.
West LA is a commercial and residential neighborhood located adjacent to Westwood and Century City.
The Interstate 405 Freeway divides West LA into two sides, which each get treated as distinct neighborhoods.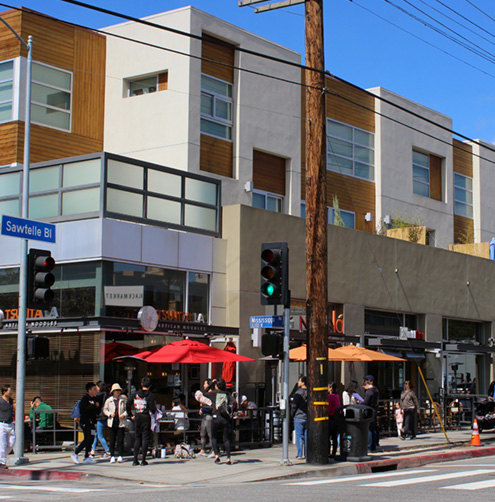 West Los Angeles is bounded on the north by Santa Monica Boulevard and Wilshire Boulevard; on the west by Centinela Avenue; on the south by National Boulevard, Exposition Boulevard, and Pico Boulevard; and on the east by Durango Avenue, Canfield Avenue, and Robertson Boulevard. While some use the term "West Los Angeles" to describe the whole of Westside covering Venice and Santa Monica, it actually alludes to the portion between the city limits Santa Monica and Century City from west to east, and between the city limits of Santa Monica and National Boulevard from north to south, plus a small area past National Boulevard.
The Sawtelle neighborhood's population over the 2.69 -square-mile area was 35,844 when the 2000 census was taken, giving a density of 13324 people for each square mile. In 2008, this had risen to 38,698 people, which was high for the county. The area lying to the eastern side of the 405 freeway, stretching 1.05 square miles, had 12,659 residents in the same year, putting the density at 12,.61 for each square mile. The population rose to 13,582 people in 2008.
The median annual income among households in the West Los Angeles neighborhood was calculated as $86,403 in 2008, which is high in relation to both the county and the city. The share of households making $125,000 and upwards was high as well. The median resident age was 38, which is old for both the county and the city.
West Hollywood homes come in different shapes and sizes, which makes remodeling a popular way to setup up a property's value on the market. If you want something along these lines, call Trig Builders and avail the finest landscaping and remodeling services offered in the county. We make sure you are impressed with our work, so hand us your dream project and we will turn it into a reality.